Ready to step into our time machine – which takes you back over 2000 years? This journey takes you through the incredible artisan technique of Batik, commonly used in the Far East. You will explore various tools and methods for building up multiple layers of hot wax and dyes on to cotton fabric.
The applied wax resists dyes and therefore allows the artisan to colour selectively by soaking the cloth in one colour, removing the wax with boiling water, and repeating if multiple colours are desired.
In this workshop you will:
• Stretch the cotton fabric on a wooden frame.
• Prepare the design on paper.
• Transfer the design on the fabric
• Choose two colours for the design and start applying wax for first colour.
* Dip the fabric in first dye.
• Dry the fabric and apply wax for second colour and dip it in dye-bath (if time allows).
• At home, you will remove the wax by washing it in boiling water or ironing between layers of paper.
Advisory Note:
Not suitable for children under 16 years
Meet the Tutor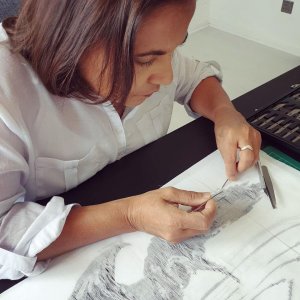 Shree (Shraddha) Desai
Shree is a Textile Designer and Textile Art Workshop leader who is dedicated and passionate about teaching and connecting to the creative world. Shree's background includes a Master's degree in Textile Design from the National Institute of Design in India. Most recently, she has been conducting Textile art workshops around the UK and is inspired by teaching both children and adults and delivering excellent customer-focused workshops.