Using painted Bondaweb, Tyvek, organza, lace and handmade cords you will create a 15 x 15cm (6 x 6in) textile landscape picture.
Step-by-step instructions will be given at the workshop, along with a printed a hand out.
Advisory Note:
Some prior experience of using a sewing machine and the free-motion embroidery foot would be useful.
Not suitable to children under 16 years.
Meet the Tutor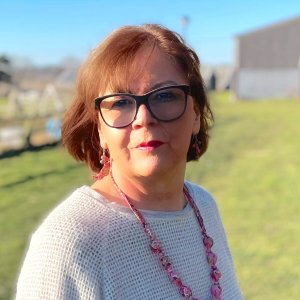 Julie Cole
Julie Cole is a member of the textile group Dropped Stitch Artists, and is a textile and mixed media artist living in South Lincolnshire. Being a visual type of person she finds herself very much drawn towards creating texture through mixed media art.
She loves mark-making, mono-printing and making her own creative fabrics to work with through dyeing eco-dyeing and printing.
Julie's inspiration for her work comes from embracing the countryside