Learn the art of Origami, folding either traditional origami papers, or upcycling wrapping paper into a decorative Christmas tree! Perfect for decorations around the home, or on your Christmas table.
Advisory Note: This workshop is suitable for all ages and abilities, but children under 12 years, but must be accompanied by an adult. No equipment required
Meet the Tutor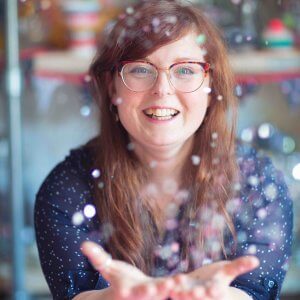 Paula Milner – The Crafty Lass
Paula Milner – otherwise known as The Crafty Lass – is a blogger, tutor, illustrator and fabric designer. Her fabric ranges with the Craft Cotton Co can be found in shops across the UK! She enjoys drawing, sewing, quilting, paper flower making… you name it, she may have tried it!
She is a brand ambassador for Brother Sewing Machines, a Cricut Ambassador and Design Space Contributing Artist and her aim is to make craft accessible to all. She wants people to get making, creating, and inspiring themselves, and others!

Paula has taught a range of one-to-one bespoke workshops, corporate team building sessions, online events, and at some of the biggest craft festivals across the UK. She is a mum of two boys, loves a good cup of tea and strongly believes that craft should be two things: fun and achievable.