Based on Helen's latest book: Dressmaking. The Easy Guide, you will learn how to measure yourself accurately and choose the best-sized block. You will learn how to trace off a block accurately. Helen will then demonstrate how to alter a toile, before demonstrating how to transfer simple pattern alterations to the pattern.

This workshop is for anyone who wants to learn how to draft dress patterns for themselves. The size chart goes from a UK 6 – 44.
All materials and equipment provided for use in the class.
Advisory Note: All ages and abilities are welcome.
Meet the Tutor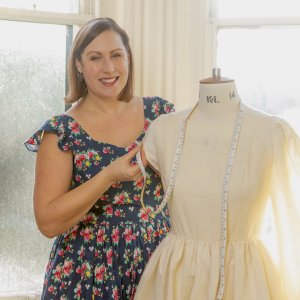 Helen Rhiannon
Helen Rhiannon is a dressmaking expert and bestselling Author. Helen has gained extensive knowledge over the last 18 years from designing and creating bespoke clothing and bridal wear. Helen has also taught sewing and dressmaking for many years, which led her to publish her new book, 'Dressmaking The Easy Guide'. Helen is also a regular Guest Presenter on Sewing Street TV.
Through her new book, Helen will hand hold you through the basics of dressmaking and the skills you will learn to be able to create your own beautifully fitted dress. You will be able to choose the exact size that fits and flatters you from a bespoke sizing chart, which ranges from a UK 6 – 44.