Join Nicki from @Daisy's 60 Minute Crafts to make the ultimate up-cycled Christmas Tree.
Learn the art of magazine makes and celebrate reduce, reuse and recycle this Christmas.
Nicki has a reputation for making beautiful projects out of the materials you have in your craft stash and around your home, with monthly projects accessible via her craft club and this project is no different. Prepare to be amazed at how you can turn simple resources into a Christmas decoration you can be proud of.
Advisory Note:
Not suitable for children under 16 and those struggling with dexterity.
Meet the Tutor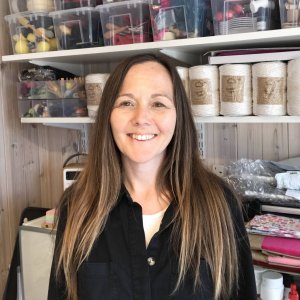 Nicki Gunn
Nicki is a trained teacher who spent many years inspiring young and old to embrace learning something new. Nicki studied Education at University focusing on Art (textiles) and Music.
After a successful career in Education Nicki decided to follow her true love of crafting and 'Daisy's 60 Minute Crafts' was named after her late Grandma and born in 2019.
Nicki's mission is to encourage people to 'make time to craft' finding the joy in setting aside a little time to be creative with their hands. She does this by designing projects that are accessible to all levels of crafters, whilst giving her clients a taste of new and exciting crafts and techniques.
She has developed a wide range of workshops and craft kits; she teaches nationally online via her popular 60 Minute Craft Club and face-to-face sessions across Shropshire and Herefordshire.