Free-Machine Embroidery will be used to trap fibres and fabrics between layers of water-soluble stabiliser, to create a winter landscape with a beautiful festive tree in the foreground.
With useful tips and instructions given in the session, wash out the stabiliser at home and stitch together around the vessel.
All materials including a vessel to work around and LED Fairy lights will be included.
Advisory Note:
Suitable for over 16's, beginners and experienced sewers.
Meet the Tutor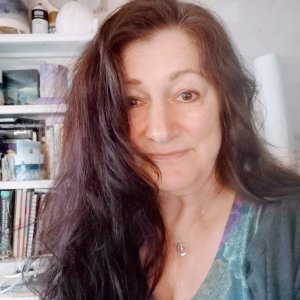 Ruth Parkinson-Johns
Ruth is a Mixed Media Textile Artist who works with an experimental approach in printing, dyeing, hand and machine embroidery. Her inspiration is found in nature, imagination and memory. Ruth enjoys sharing her passion for textiles with others through teaching here at the NEC Birmingham and on special request from various Textile/Art groups etc.