Ever want to master the vintage craft of Bargello? Well look no further than this fun-filled needlepoint class from author and Kirstie's Handmade Christmas contestant, Nerrisa Pratt
Learn the basics of Bargello from teacher and founder of The Bargello Edit, Nerrisa and get started on your way to creating a hand-stitched planter cover to add some colour to your collection.

Workshop costs include all the materials you need to create a mini planter cover, perfect for a succulent, plus instructions to enable you to finish your project at home once all your stitches are complete.
Meet the Tutor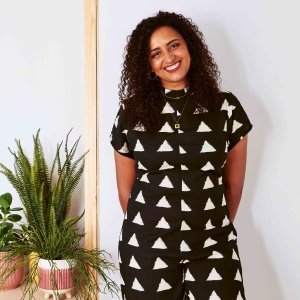 Nerrisa Pratt
Nerrisa Pratt is a maker of all things. From sewing to baking, papercraft and even a brief love affair with knitting, she always has a project on the go. As well as sewing her entire wardrobe, she runs a small business The Bargello Edit and regularly creates beautiful craft projects for brands such as Hobbycraft, IKEA, Cricut and The Range to name a few.
Inspired by fashion and interior trends, The Bargello Edit is a resource that hosts workshops and sells kits. She truly believes that craft is for everyone and doesn't need to be 'kitsch' or 'cute', her personal mission is to make Bargello accessible and bring it into the modern home.