Create three small-embroidered pictures using shapes, which have been applied to calico.
Using a sewing machine set for free motion stitching – you will learn to draw with a sewing machine, to enhance your pictures.
Further details may be added with hand stitching, paint and applied elements afterwards at home.
In this class you will be supplied with your own wooden embroidery hoop to take home and use for your own further stitching or to frame one of your stitched artworks.
Advisory Note:
Suitable for beginners and those with experience of free motion embroidery.
Meet the Tutor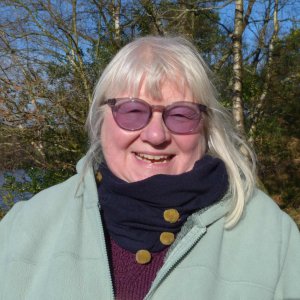 Jan Tillett
Jan is a textile artist and tutor living and working in Devon. She uses a variety of fabrics and threads to create distinctive textiles -–remnants, recycled cloth, hand dyed fabric, paper and anything a needle will pass through.
Using a sewing machine, she 'draws' on her pieces using both the simplicity of a line drawing on a single piece of fabric to the complexity of multi layered fabrics with intense stitching, the variety of textures achieved with a sewing machine, fabric and thread is as varied as any other art medium.
The inspiration for Jan's textiles comes from the colours and textures within both the natural and built environment. From the tiniest of seeds to a stretch of landscape: colour and texture can be seen all around, often in unexpected combinations.
Free motion embroidery is an addictive process and one that Jan loves to share with others. She teaches a range of creative textile workshops in Devon and further afield. Local venues include Tiverton and South Brent.