Use free motion embroidery, in the distinctive dark thread characteristic of SarahB's work, to create one or two beautiful embroideries that can be made into a small zip pouch bag or kept to be framed later. If you choose the wall-art option you may have time to add colour.
Advisory Note:
Suitable for over 16's only. No previous machine embroidery necessary, although experience on a sewing machine would be useful.
Meet the Tutor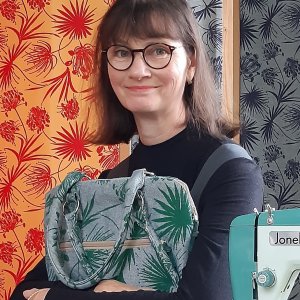 SarahB
SarahB has industrial and teaching experience as a textile and fashion practitioner. She became a full member of MAKE Southwest in 2018 (then The Devon Guild of Craftsmen) and won the inaugural Best Newcomer Award at the annual Craft Festival in Bovey Tracey. Sarah has work in the Museum of Design in Plastics, which doesn't conflict with her sustainability ethos as it's a piece crafted from recycled materials.
Sarah's designs have been seen in a number of publications including The Guardian as well as in Elle, Harpers & Queen and Embroidery magazines. One of her designs was used as a visual on screen in Series 2 of BBC's Great British Sewing Bee.
Sarah enjoys membership of The Green Maker Initiative and creates her inspiring and unique textile art on any one of her four vintage treadle machines.