Clive from @wesewtoo and @boyssewtoo shows you how to create a little mini shoulder travel bag with a secure zip fastening. It's perfect for all your holiday essentials, such as wallet, sun cream, water bottle and phone, now you're ready to hit the beach!
Advisory Note:
Not suitable to children under 16 years
Meet the Tutor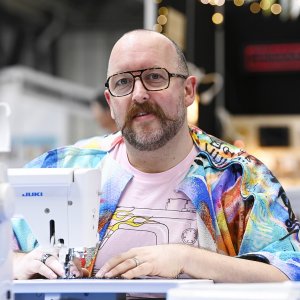 Clive Bruder
Clive started sewing when he was around 10 years old. With the help of his Mum he made some curtains for their home on an old hand cranked Singer sewing machine that was gifted to them by a relative. Ever since Clive has been hooked on sewing.
He went on to college to study textile design, followed by The University College for the Creative Arts in Epsom, to achieve a Fashion BA Honours Degree.
Over the past few years with the support of family and friends Clive was encouraged to start his own business Bruderful Design. Unfortunately like many, his business was badly impacted by COVID, but despite the pandemic he's been extremely lucky with new exciting opportunities. This included a regular guest slot on Sewing Street TV, the launch of @WeSewToo and along with his husband Mark he has attended many sewing shows and together with Mark's successful brand, they have released lots of sewing patterns too.
Clive says, "Nothing makes me happier than being at my sewing machine and being creative."