Monoprinting using a Gel Plate is simple and fun without the need for a printing press or for any carving. The reward is immediate and each print is truly unique.
Learn how to print using gelatine (gel/gelli) plates in a friendly supportive environment. Exploring a variety of Gel Plate Printing techniques. Experiment with layering colour and texture using various plants, stamps, stencils and other household textures, which Hannah will provide. (You can bring anything you want to use to the workshop leaves, flowers, feathers, thread, plastic craft stencils or stamps etc.)
You will learn how to hand print onto paper, card or blank greetings cards ready to take home the wonderful outcomes you create at the end of the session!
There is no limit to the amazing things you can print with using gel plates, they are a fantastically versatile medium and a must have for any keen artist, painter, paper crafter, etc.
Advisory Note:
Not suitable for Children under 11 years.
Meet the Tutor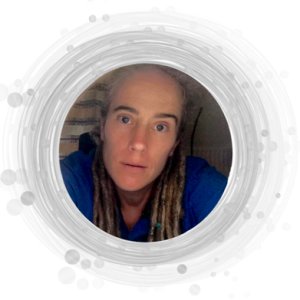 Hannah Blowes
Hannah Blowes creates hand carved and hand printed lino printed artworks and develops educational printing kits and equipment in her workshop near Bude in Cornwall.
Hannah trained as a Theatre/ Film Designer and then later spent 15 years teaching Art & Design in secondary schools where it was magical to inspire students with a love of creativity and skill based learning. She still really enjoys teaching printmaking techniques and runs workshops throughout the year.