Join Kerrie from Living In Loveliness to sew the super popular Pretty Pleated Cushion cover. This project is a fabulous way to use up beautiful strips of fabric to make a super easy and fun pleated cushion cover.
Your workshop includes a full pre-cut floral and plain fabric kit, but does not include a cushion pad. Please note fabrics may vary from that in the photo.
Advisory Note:
This project is perfect for beginners and the more experienced sewist, but under 16's must be accompanied by an adult
Meet The Tutor
Kerrie Padmore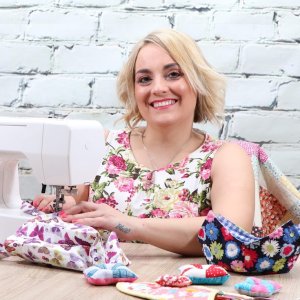 Since launching 'Living In Loveliness' 11 years ago, Kerrie's passion for teaching and super-cute fabrics has blossomed and grown even more. With sewing classes and sewing retreats from beginners to the more advanced sewers, plus her fabulous range of sewing kits and patterns.
Kerrie's passion lies in bringing people together in workshops through their shared joy of sewing, and she looks forward to welcoming you to her wonderful world of 'Living in Loveliness' at the Exeter show.