Join Kerrie from Living In Loveliness to learn the art of basic raw edge applique and stippling quilting during this fabulous free motion workshop.
Free motion can completely transform the most basic project and make any project from a simple zipper make up bag to a beautiful quilt looking absolutely stunning.
You will leave the workshop with two samples:
your stippling practice-piece and your floral or Christmas Inspired free motion panel. You will be using Bosal Arcadia Batting to add a beautiful finish to your project allowing you to turn these panels into a wall hanging, cushion front or table centre – the choice is yours.
Advisory Note:
Suitable for over 16's, beginners and experienced sewers.
Meet the Tutor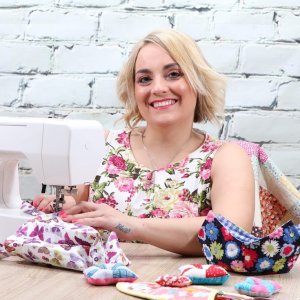 Kerrie Padmore, Living in Loveliness
Since launching 'Living In Loveliness' 11 years ago, Kerrie's passion for teaching and super-cute fabrics has blossomed and grown even more. With sewing classes and sewing retreats from beginners to the more advanced sewers, plus her fabulous range of sewing kits and patterns. Kerrie's passion lies in bringing people together in workshops through their shared joy of sewing, and she looks forward to welcoming you to her wonderful world of 'Living in Loveliness' at the Birmingham